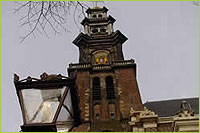 Westerkerk
The Westerkerk was officially opened on Whitsunday 1631. It is one of the oldest churches built for the Protestant services, and the largest as such church in the Netherlands.
The tower, which occupies a unique place in the affections of the people of Amsterdam,
bears the symbol of the imperial crown of Maximilian of Austria, which was his gift to the
city in gratitude for support given tot the Austro-Burgundian princes. It has inspired many songs and poems and remains a symbol of the city for Amsterdammers abroad.
Rembrandt, one of the world's most famous painters, was buried in the church. Near the church and in view of the tower, Anne Fank wrote her diary in the Annex, her hiding place
from the Nazis. In 1966 Queen Beatrix and Prince Claus were married in the church.

Hendrick de Keyser, the city architect, built the church in Dutch Renaissane style, which is characterized by a combination of brick and stone. The long vertical lines are reminiscent
of the Gothic style. The building is in the shape of a rectangle. Two rows of triplet-pillars support a clerestory in the form of a Greek cross. The church is 29 metres wide, 28 metres high, and has 36 windows. The nave is covered by a wooden barrel vault, of the type used extensively in coastal regions of the low countries, where the soft soil did not allow heavy vaulting. From 1985-1990 the church was completely restored. The electric chandeliers
were then replaced by 12 replicas of the original chandeliers.

In the medieval tradition the tower, more than 85 metres high, stands projecting from the centre of the west facade. It was completed in 1638. The base of the tower, up to the first gallery, is of brick, while the sections above this is constructed mainly of wood with a facing
of sandstone. The uppermost sections are also of wood, with an outer covering of lead.

The hour bell is the heaviest in Amsterdam and weighs more than 7.500 kilograms; its hammer 200 kilograms. The carillon, or set of tuned bells, was cast by François Hemony,
who came from Lorraine, and was extensively restored in 1959. It now consists of 50 bells.