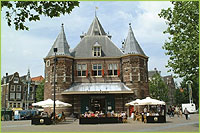 The Weigh House (Waag)
There's a part of Amsterdam that never sleeps: Nieuwmarkt. In the middle stands the
Weigh House or Waag. Originally built in 1488, this characteristic monumental structure
now houses Restaurant-Café In de Waag: the ideal place in the heart of Amsterdam for
a lunch, reception, meeting or dinner. This magnificent historic building with its constrained
yet informal interior design is lit by 300 candles. A combination that ensures a unique atmosphere.

The weigh house was originally built in 1488 as one of Amsterdam's city gates,
St Anthony's Port. A stone incorporated in the tower facing Zeedijk recalls the date in
an inscription: In MCCCCLXXXVIII [1488] on the XXVII [27th] day of April the first stone
of this port was laid. St Anthony's Port was one of Amsterdam's three main gates. The
others were Reguliers Port, the bottom of which forms the base of Mint Tower, and the old Haarlemmer Port, which no longer exists. In 1601 the city's walls were torn down to allow Amsterdam to expand further. St Anthony's Port remained standing, although it was now redundant. On either side, part of the canals were filled in to create a square: St Anthony's Market - since renamed Nieuwmarkt. In 1617 the former city gate was provided with a new function: that of weigh house. Some of the arrowloops were widened to form windows,
giving the building a more open character. Amsterdam's merchants were pleased with
the new weigh house, since the old building on Dam Square had been unable to handle
the explosive growth of trade.