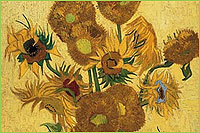 Van Gogh Museum
The Van Gogh Museum is the museum with the world's largest collection of works by
Vincent van Gogh: more than 200 paintings, 500 drawings and 700 letters as well as
the artist's own collection of Japanese prints. The museum also houses an extensive
collection of works of art by other 19th-century painters and sculptors. The permanent collection is housed in the main building, which was designed by Gerrit Rietveld. The
exhibition wing, designed by the Japanese architect Kisho Kurokawa and completed in
1999, offers a wide range of exhibitions related to 19th-century art.
Work of Vincent van Gogh
The work of Vincent van Gogh contains all his paintings as well as his written documents.
They provide a unique insight into his life and work. Van Gogh's work is organized chronologically into five periods, each representing a different phase of his life and work:
the Netherlands, Paris, Arles, Saint-Rémy and Auvers-sur-Oise.
Work of other artists
This part of the museum shows an extensive permanent collection of other 19th century artists. These artists were contemporaries and friends of Van Gogh, and include
Paul Gauguin and Henri de Toulouse-Lautrec. Van Gogh met these artists in Paris,
a period in his life that was formative in the development of his painting style.
It was in Paris where he got acquainted with the painting style of the Impressionist's;
the handling of light and color, and treating their original themes from the town and country.

Van Gogh Museum; Paulus Potterstraat 7; 1071 CX Amsterdam

Links
www.vangoghmuseum.nl