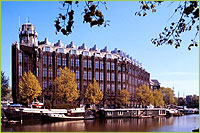 Scheepvaarthuis (Shipping House)
The Scheepvaarthuis (Shipping House) is one of Amsterdam's best-known monuments. Architect J.M. van der Mey designed the building. The Scheepvaarthuis is located on the
corner of Prins Hendrikkade and Binnenkant, in the former harbor of Amsterdam.
Piece de resistance
The Scheepvaarthuis was built as a joint office for six Amsterdam shipping companies.
It was to be a modern and functional office building. The structure is a piece de resistance
of the Amsterdam School and one of the main examples of this architectural style. Characteristics of the Amsterdam School are the profuse masonry along the chimneys,
ridge beams and frames and the design of the corners.
Richely decorated
The building is richly decorated with sculptures and wrought iron. Many of the decorations
refer to the history of shipping in Holland. Symbols include seahorses, dolphins, waves
and anchors.
The four oceans (the Indian Ocean, the Mediterranean, the Pacific and the Atlantic Ocean)
are represented around the entrance. In the window next to the main entrance you see
an illustration of Neptune with a globe. In the other window, the cities of Amsterdam and Venice symbolize the V.O.C. (United East India Company) and the W.I.C. (the trade with America and Africa).
The most remarkable feature of the interior is the central stairwell. The staircases have
been richly decorated with shells, octopuses and other figures. During office hours you
may join a guided tour of this beautiful feature.
National monument
The last of the six shipping companies left the building in 1981. Since then the building
has been the head office of the Municipal Transportation Company Amsterdam (GVB).
At the moment there are plans to turn the Scheepvaarthuis into a hotel. The new owner
will have to preserve the monumental aspects of the building, as it is a
national monument.