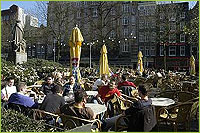 Rembrandtplein
The square developed into a centre for nightlife with the opening of various hotels and
cafés. The popularity of Rembrandtplein has arised along with the café terraces, that are packed during summer with people enjoying a pleasant drink and watching the world go
by. In the middle is a green rectangle of grass especially popular with youth during sunny days. Around the square there are some quality night clubs and gay venues; as well as respectable diamond factories and cosy souvenir shops. Places of interest around Rembrandtspleinare the Cinema Tuschinski, De Kroon - a typical grand café that dates
from 1898, cafe Schiller and the Muziektheater.

Leidseplein

The square developed in the 17-th century as a wagon park for farmers and peasants to
leave their carts here before entering the city centre. The name is because of Leidsepoort, which once marked the end of the main road from Amsterdam to Leiden. Nowadays, Leidseplein is a busy tram intersection and centre of night-time transport.
Leidseplein is one of Amsterdam's popular centers for nightlife, with theatres, lots of
cafes, restaurants, cinemas, the casino, the Lido theatre with live entertainment and
music centres Paradiso and Melkweg. Street musicians, jugglers, fire-eaters and other performers make the square a lively place until the early hours, especially on warm
summer evenings, when you can get there also a henna tattoo.
At night, it is the meeting point for youth, who hang out in the clubs and cinemas around
the square. It is also popular with pickpockets as well with drunk groups of tourists.
Places of special interest are Boom Chicago and the Stadschouwburg. Housed in the
historic and superbly situated Leidseplein Theatre, every night of the week Boom Chicago presents an English-language comedy show which is invariably hilarious.
The city theatre Stadschouwburg is situated in a neo-renaissance building. Amsterdam's footbal team Ajax uses the theatre's balcony to greet supporters after winning important games.