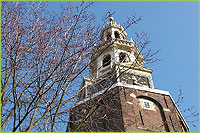 Montelbaanstoren
Reflected in the water of the canals you see the grand Montelbaanstoren on the quay
near Oude Schans. This famous tower was built in 1516 as part of Amsterdam's defences.
The origin of the name Montelbaan, first mentioned in 1537, is sadly still a mystery.
Confusion
In 1606 the tower underwent a metamorphosis. Nearby residents were unable to hear
the bells in the tower, so the town council decided to raise the tower and fit it with a clock.
This threw the tower into a state of confusion; its bells started to ring at the most unusual hours. After some time the bells would stop, and would then not ring at all for several
days. Then, when people were least expecting it, the pealing would begin again.
New function
The tower now accommodates the Dienst Riolering en Waterhuishouding (Sewerage
and Water Management Department), which monitors water levels, wind directions
and wind forces. The aim of these observations is to control the level of the water in Amsterdam's canals and the flushing of the canals. Four times a week this department
closes the town's locks and dams at night. The next morning they open them all again
so that the accumulated water can flush the canals clean.