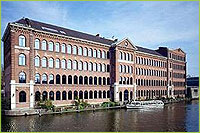 Diamanten
Amsterdam has a long heritage in the diamonds, and has been a major diamond centre
since Sephardic Jews introduced the diamond cutting industry in the later 16th century. Nowadays there are about a dozen diamond factories in the city, five of which offer
guided tours. The tours are free and are usually conducted 9am to 5pm every day.
Diamonds aren't necessarily cheaper in Amsterdam but prices are fairly competitive.
At least you will have seen how they are worked, and when you buy from a factory you
get an extensive description of the purchase so you know exactly what you are buying.
The following renowned diamond stores offer diamond-cutting and polishing tours, and
sales of the finished diamonds:

Coster Diamonds
Hundred-thousands visitors come to see Coster Diamonds craftsmen at work every year.
Free-guided tours are available in more than 25 languages, the process of cutting and polishing a diamond is explained in detail. After the tour, visitors have the opportunity
to browse around in the spacious showrooms. Open daily from 9 am to 5 pm;
www.costerdiamonds.com

Gassan Diamonds
A tour at Gassan Diamonds takes around twenty minutes and is free. Open daily from
9 am to 5 pm
www.gassandiamonds.com

Van Moppes Diamonds
In 1955 Van Moppes Diamonds was the first diamond factory in Amsterdam to open its
doors to the public. Open daily from 9 am to 5 pm.
www.moppesdiamonds.com