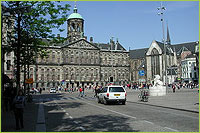 Dam
Just a five-minute walk down the Damrak from Centraal Station takes you into this
jam-packed square, jostling with locals and tourists day and night. It was created in
the 13th century when a dam was built around the river Amstel to prevent the Zuiderzee
sea from swarming the city. During the sixties, the square was renowned for its
Dam Square hippies, and the laid back and relaxed character of this densely pigeon populated square lives on.
There are food stalls, restaurants and shops galore, including the trendy Magna Plaza
and the Amsterdam Diamond centre. Such is the popularity of Dam Square that you
might even have to wait for a seat at one of the many cafés and bars. Whatever the
weather, there is always something going on here so expect lots of entertainment.
In spring, there may be a carnival on or you can have a go on the colourful Ferris
wheel. In the summer months, mimers and other street performers come out to
surprise unexpected onlookers.
But without doubt, of all the attractions in Dam Square, Royal Palace ( Koninklijk Palace)
is quite literally the jewel in the crown. Although no longer home to the Dutch Royal
family, this grand 17th century Royal Palace is still used to hold official receptions.
On the south side of Dam Square stands the controversially phallic National Memorial
statue, erected in memory of Dutch soldiers and members of the resistance who died
in World War 2. Unveiled in 1956, the monument stores soil from all of Holland's
provinces as well as from the Dutch East Indies and if you go to the back of the
obelisk tower, you'll find the provinces' crests.
Other must-sees in Dam Square are Madame Tussauds, the world famous wax works
museum and the New Church ( Nieuwe Kerk ).