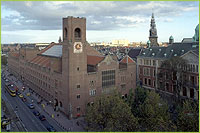 Beurs van Berlage
The Beurs of Berlage was built between 1898 and 1903 by the architect Handdrik Petrus Berlage (1856-1934) for the Municipality of Amsterdam. It was Berlage's first really big commission, and it made him world-famous. The building was constructed on a reclaimed
tract of land alongside the Amstel river, where trading ships used to moor.
The Beurs of Berlage was officially opened by Queen Wilhelmina of the Netherlands on
27 May 1903. The building was designed to accommodate all forms of stock trading.
At the time, the Beurs van Berlage was referred to as the Koopmansbeurs (Merchant
Stock Exchange); in it, commodities, stock, corn, currencies and ship's cargoes were traded,
as were, later, insurance and options. Soon, however, the building was too small for so
many activities, and in 1912 the trade in stocks moved to the new building at
Beursplein 5 (the current Stock Exchange building). The last traders - those in agricultural futures - left in 1998. Since 1987, the building has been the venue for exhibitions,
concerts, congresses and other events.
The Main Hall was used not only for trading in commodities (such as copper, coffee and cotton), but also as the venue for large parties and political events. "The room
communicates an intandse feeling of rest. This originates from the balance Berlage
created between the colours (especially the blue and yellow), the materials (brick,
sandstone, granite, iron and wood) and the architectural form. There is a perceptible
tension between the 22-metre-high brick wall and the many arches that have to support
it. The roof is made of double glass panes. At various spots are reliefs created by
Lambertus Zijl, and on the balcony is Mercury - God of Trade (and of thieves). The
Main Hall is the most impressive hall in the Beurs van Berlage, and is still virtually in
its original state. It is now the venue for parties, political meetings, exhibitions and
other large events.